What's better than a once-in-a-lifetime cruise to the Galapagos Islands? Sleeping under the spectacular night skies in one of the most remote places in the world on the deck of a ship that's the height of modern luxury.
The Celebrity Flora is a first for the cruise line, dedicated to exploration of the natural wonder of the Galapagos islands. The ship launches in May, 2019, and is based on the island of Baltra in the Galapagos.
100 privileged guests at a time will experience
the Galapagos islands
in the Flora's all-suite environment. In addition to the stylish design, dining, cocktails and onboard signature Celebrity Cruises lifestyle, this exploration ship is designed specifically for the best possible Galapagos luxury experience:
innovative, outward-facing design providing 360-degree views of the islands, open air lounges with hot tubs and cabanas with a view,
expert-led ecological seminars,
seamless sea-to-shore transportation in yacht tenders off the open marina at the ship's aft,
environmentally-conscious features like extreme energy efficiency and anchorless technology to protect the sea floor, and
an open-air stargazing platform on the top deck.
That's where Celebrity has crafted a whole new Galapagos cruising experience: 'glamping' (glamorous camping) with the Galapagos' brilliant night sky and millions of stars above.
It's a one-night experience you'll never forget. Four guests each night will be able to reserve the experience that includes two cabanas with deluxe appointments, one with a bed for sleeping, the other for dining alfresco with curated cocktails, wines, even campfire favorites like s'mores under the stars. And a naturalist is available to point out stars and constellations as seen only from this part of the world. The magical overnight experience concludes with sunrise and a full bed-side breakfast. Glamping under the stars isn't a one-time PR stunt –it's a full-time part of Celebrity's Galapagos experience.Guests on every sailing of the Celebrity Flora on her 10- or 11-day tours as well as 16-night inner plus outer loop Galapagos itineraries can reserve Glamping under the stars on the top deck to add another unforgettable experience to their bucket-list travel to these remote islands and natural wonders.
Start your Trip!
Copyright BestTrip.TV/Influence Entertainment Group Inc or Rights Holder. All rights reserved. You are welcome to share this material from this page, but it may not be published, broadcast, rewritten or redistributed.
If you're trying to come up with the perfect family vacation for the holidays, time to think about cruising.
Whether you are new to cruising or a seasoned sailing family, here are 5 tips to ensure every member of the family has a fun, memorable… and relaxing holiday.
By: Lynn Elmhirst, Producer/ Host and cruise expert, BestTrip.TV
1. Location, location, location.
Pick your family cruise destination first, and make sure every family member will have something to be excited about. A cruise is one of the best ways to introduce the family to Europe, to reach exotic destinations like the Galapagos, or see the world closer to home. (Top image: Families in awe of the Hubbard Glacier in Alaska on a Regent Seven Seas Cruise. Watch the video!)
Can you drive to a major cruise port? Ships embark from cruise ports along all coasts of North America, from Montreal, out the St. Lawrence and down the East Coast, southern ports in Florida, Louisiana and Texas, and up the West Coast from San Diego all the way to Vancouver. From these home-grown ports, cruising families can enjoy Canada and New England cruises, Bahamas/Caribbean/ Panama canal cruises, Mexico and Western Caribbean cruises, Pacific Northwest and Alaska cruises (like the Regent Seven Seas Cruise to Alaska pictured, top), and West Coast/ Baja, South America and even Hawaii cruises.
If you drive to the port where your ship round-trips, a family can save a lot on flights… and use those savings on their family cruise vacation to upgrade a stateroom category, treat yourselves to more shore excursions, even take other members of the family along too and make it an extended family get together.
2. Find the perfect cruise ship match.
Mega-ship or small ship? It depends on your family, and a good travel advisor will consult with you to find your perfect family cruise. There are enormous cruise ships that are destinations in themselves, floating theme park resorts. And for some families, they are perfect holiday destinations, with more round-the-clock adventures, activities, pools, sports, dining and entertainment than the family can even experience in a week or 10-day cruise. With social clubs for kids of all ages right through to the sedate activities many grandparents enjoy, these ships are crowd pleasers.
(Waterslides on Royal Caribbean's Symphony of the Seas)
But they are not the only options. If the kids in your family don't need non-stop activities, if you are more interested in authentic destination experiences, medium and smaller-sized ships including expedition and luxury ships - even river cruise ships - might be the best fit for your family. Smaller ships and expedition ships may not have the whirlwind of activities and entertainment of the biggest ships, but they can dock in more out-of-the-way places, and the atmosphere on board is quieter for families who make their own fun.
3. Book and pre-pay for as much as possible.
Your travel advisor can help match you to your best cruise options that have the best value for the best type of cruise experience for your family. That may involve packaged, pre-paid or included things like tips, drinks packages, shore excursions, even flights. Generally speaking, pre-paying gives you the best value for money. As an added bonus, you'll worry less about tracking your vacation spending budget while you are on holiday – and be more likely to avoid going over-budget.
Pre-booking ensures you'll also be able to enjoy a ship board experience on your first preference of day and time. Spa appointments and specialty restaurants can book up before guests even board the ship. So pre-book parents' date night or someone's birthday or anniversary dinner before you board.
The same advice goes for shore excursions. If there's an experience at a port of call that's the highlight of the family cruise vacation, booking that zip line adventure, wildlife tour, catamaran or cooking class ahead will ensure you avoid disappointment.
(Beach day on Holland America Line's private island in the Bahamas)
4. Give kids some independence – and give parents a break.
One piece of advice parents regularly come back to thank me for is that I recommend families take walkie-talkies. One could be for the parents, the other for older (tween/teen) kids. This gives kids the run of the ship to enjoy their own interests, and still be in contact with parents. Or divided between different family groupings so there's maximum freedom to break into smaller family groups and also easily check in, plan meeting places, get together for a swim, lunch, or another whole-group activity…
Pre-paid drinks packages also enable kids to serve themselves without tracking down an adult or running up a surprise tab.
Since cruise ships are self-contained, they are among the safest family travel destinations for families to enjoy their own interests in the same space. Nothing says 'vacation' like parents lounging by the pool knowing the kids are safe and having a great time on their own.
5. Look into and take advantage of on board services.
This is part of the essential cruise match-making process your travel advisor can help you with. Cruise lines are innovators in keeping kids entertained. They've developed partnerships with kids' favorite characters and movies. And many offer clubs and daycare for kids of all ages – some even for babes-in-arms that make cruises great 'babymoon' destinations. So even if your kids aren't old enough to enjoy the ship's activities on their own, ask what options are for kids of all ages.
It's a great way to change up the pace for every member of the family, from time spent with different members in different experiences.
Cruises make some of the best family vacations that provide lifelong memories and maximum family time. Parents only have to pack and unpack once while the family gets to enjoy multiple destinations and vacation experiences together. With these tips, your next family cruise vacation will be your best holiday together yet!
Start your Trip!
Copyright BestTrip.TV/Influence Entertainment Group Inc or Rights Holder. All rights reserved. You are welcome to share this material from this page, but it may not be published, broadcast, rewritten or redistributed.
The 2018 Winter Olympics remind us how exciting a travel destination Korea is.South Korea has an enviable range of high octane urban, spectacular mountain, beach and countryside destinations, a rich history, culture and cuisine as well as a world-renowned pop culture that rank South Korea among the most unique places in Asia. Visit by land or by cruise ship; the Korean peninsula has several major ports and a long-established maritime lifestyle.
Here's a list of places you'll want to include on a trip to South Korea.
PyeongchangYou may never have heard of Pyeongchang until it was designated host of the 2018 Winter games, but this winter resort area is a natural Winter Olympic host. Its catchy slogan is 'Happy 700 Pyeongchang', referring to the city's 700 meter (2300 foot) elevation in the Taeback mountain region east of the South Korean capital of Seoul.
Photo Credit
As you'd expect, Pyeongchang sees seasonal snow and low enough temperatures to sustain outdoor winter sports. Two resorts in the region attract skiers, boarders as well as off-season mountain hiking. They're the core of the winter games sites, which have also resulted in additional hotel and sports facilities.
Photo Credit
The Olympics brought other advances, too. A new high-speed (250 km/h or 155 mph) train now brings visitors from Seoul in less than an hour and a half. Don't spend all your time on the slopes in Pyeongchang. Take a break for your spiritual wellness at one of the area's notable and historic Buddhist temples.
SeoulSeoul is the 4th most economically powerful city in the world, the hub of its global technology, electronics, and auto industry wealth. Like other large, wealthy Asian cities with extraordinary modernism, high-tech, high-rise Seoul can feel surreal to visitors. The center of K-pop (Korean pop music), entertainment and media, this is a city that never sleeps. (Top Photo Credit)
Photo Credit
Seoul is land-locked and surrounded by mountains. The city was established on the Han river 2000 years ago, and has been Korea's capital for over six centuries. Korea's west-coast port of Incheon is right next door; if your Asia cruise has a call there, you'll be well-positioned to do some 'Seoul searching'.
Photo Credit
Seoul's neighborhoods are landmark destinations in a whirlwind city. Among the skyscrapers, neon, miles of packed arcades and landmark hotels, you'll be immersed in the lifestyle of one of the largest urban centers in the world, Korean style: chic drinks and dinners as well as upscale shopping for local and international brands.
But don't miss the historic and authentic side of Korea in Seoul. Artisan and local craft markets, the Joseon Dynasty palace complexes of traditional architecture, local festivals and religious ceremonies with celebrants in traditional dress are distinctly Korean experiences. The area is home to 5 UNESCO World Heritage sites as well its international design award-winning modern architecture.
Jeju IslandFormed by volcanic eruptions over 2 million years ago, Jeju island is the largest island off the Korean peninsula, 85 km (50 miles) south of the peninsula in the waters between Korea and Japan. Jeju's lava base limited early agriculture and resulted in a unique and pristine ecology that set Jeju apart from anywhere else on earth.
Photo Credit
It also created breathtaking lava formations including one of the biggest lava tubes in the world, nearly 9 km (over 5 miles) long and close to a hundred feet high and wide. Visitors are in awe of the full range of cave architecture like columns, benches, bridges and more. The 7.6 meter (25 foot) column of lava inside is the largest known in the world. The caves are home to exceptional wildlife, including a 30,000 strong colony of bats.
Photo Credit
Jeju is an increasingly popular resort island, with a sub-tropical, humid climate warmer than the rest of Korea and some stunning beaches. The island, historically isolated from the mainland, also has its own cultural, clothing, architectural and language traditions.
BusanSouth Korea's second biggest city, on the south-east coast of the peninsula, is also the country's largest port. Many Asian cruises call at Busan. Like Seoul, it's a fascinating combination of history and tradition on the one hand, and eye-popping ultra-modern urban lifestyle on the other. Shop til you drop at the world's largest department store, and take a wellness break at one of the city's dozens of traditional spas using natural-sourced spring water.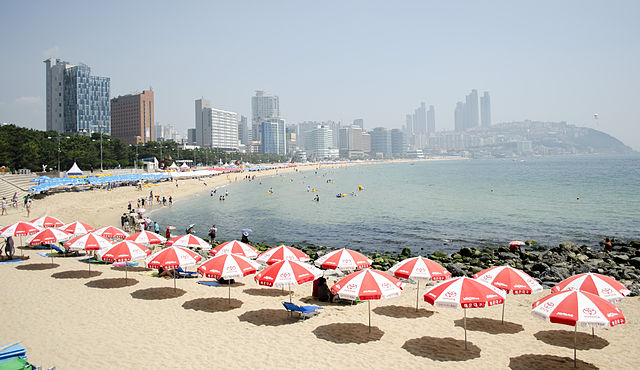 Photo Credit
Compared to Seoul, Busan is blessed with a warmer climate, beaches, and a maritime lifestyle including a renowned fish market, and signature seafood cuisine. Surrounding mountains provide cool air and magnificent vistas over the sea. Many Korean temples are at the tops of mountain hikes, so don't miss one spectacular exception, the Haedong Yonggung Temple on Busan's coast overlooking the Sea of Japan.
Photo Credit
The Demilitarized Zone (DMZ)The DMZ is a 4 km (2 ½ mile) wide no man's land between the two Koreas that spans the entire peninsula 250 km (150 miles) from sea to sea. The DMZ is a very real reminder of the conflict between the two Koreas that remains unresolved today.
Don't let the name mislead you. It's called 'demilitarized', but Korea's DMZ is actually one of the most heavily armed, land-mined, barricaded and patrolled regions of the world. Tours into the DMZ bring the history of the Cold War conflict that split this country into high relief. It also soberly memorializes the lives lost and families separated as a result of the division of the country. Absent human activity in the area, several formerly endangered species have re-established footholds in the DMZ. So there's that small consolation. As an experience of military tourism and reminder of the repercussions of the Cold War that still exist today, Korea's DMZ is unlike anywhere else on the planet.
Photo Credit
The Olympic flame only burns in Korea during the games, but we hope the 2018 Winter Olympics shine a permanent spotlight on South Korea as one of Asia's most unique – and unmissable – travel destinations. Start your Trip!
Copyright BestTrip.TV/Influence Entertainment Group Inc or Rights Holder. All rights reserved. You are welcome to share this material from this page, but it may not be published, broadcast, rewritten or redistributed.
Giant manta rays, sharks, whales, turtles, sea lizards and hundreds of other species are now protected in Mexico's vast new Revillagigedo marine reserve in the Pacific Ocean off the Baja Peninsula.There are four Revillagiegedo Islands about 240 miles (390 km) southwest of Baja California. They are small, uninhabited volcanic islands, but uniquely positioned where two ocean currents converge. (Top photo credit). That makes the islands and the waters around them a hub for hundreds of species of marine plants, birds and animals that live there or migrate there especially for breeding.
Previously, only the waters 6 miles around the islands were protected, leaving vital feeding, breeding and migration areas open for fishing. But in 2016 the area was designated a UNESCO World Heritage site for its biodiversity and in November 2017, the Mexican government created an immense marine reserve 57,000 square miles (148,000 square km) surrounding the islands. That's a protected area the size of the entire state of Illinois, and the largest marine protected area in North America.
(Photo Credit)
All fishing is now banned inside the reserve – a move that will actually support the fishery. Protecting breeding grounds of commercial fish like tuna will allow hard-hit fish populations recover to the benefit of local fisheries outside the reserve. (Other marine reserves around the world have seen the local fisheries benefit from the conservation of breeding grounds).
Mining, resource extraction and hotel development will also be prohibited. Plans for active protection are now in place. The Mexican Environment Ministry and Navy "will carry out surveillance, equipment and training activities that will include remote monitoring in real time, environmental education directed at fishermen and sanctions against offenders".
Already, conservationists are celebrating and calling it 'the Galapagos of North America'. The Revillagigedo islands are considered one of the wildest places remaining in tropical North America, where you can see the most giant manta rays and sharks and large fish in the world as well as soft coral gardens with sea fans, sponges and crabs.
(Photo Credit)
What does this mean for us travel lovers? In addition to knowing some of the Earth's biodiversity and natural marine beauty are being protected, Mexico's creation and protection of the new Revillagigedo marine reserve is expected to increase the opportunity for dive tourism in the area. Boats currently often depart for the Revillagigedo islands from the popular resort destination Cabo San Lucas. Not a diver? It's anticipated that carefully monitored wildlife adventure cruises, like trips travelers can take to the Galapagos Islands in the waters of Ecuador, will also allow travelers to experience the biggest marine reserve in North America.
Start your Trip!
Maybe you've had the fun of a zip line adventure before. But have you ever taken a zip line over the ocean?
When Norwegian developed Harvest Caye, its private island beach resort port of call for cruises in the Norwegian family: Norwegian Cruise Lines, Regent Seven Seas Cruises and Oceania, it took the concept of a zip line adventure to another level (pardon the pun.)
Standing tall on the island is the 'Flighthouse'. A tower that looks, no surprise, like a lighthouse. It's the focal point of the island's air-borne adventures. Guests depart from the Flighthouse onto ropes courses over the beach and lagoon, and this is where you can take flight on a zip line that sets you sailing over the crescent-shaped beach, then right over the water to a safe landing back on shore. It was a highlight of our BestTrip.TV visit to the island, and we're sure it will be yours, too.
Start your Trip!
Copyright BestTrip.TV/Influence Entertainment Group Inc or Rights Holder. All rights reserved. You are welcome to share this material from this page, but it may not be published, broadcast, rewritten or redistributed.
Do you ever see social media posts of magnificent wildlife photos from someone's trip to Alaska and think: This just can't be real?But it is. BestTrip.TV cruised from Vancouver to Seward (near Anchorage) on the Regent Seven Seas Mariner, hoping Nature would be kind and we'd encounter at least a couple of the animals and birds Alaska is famous for:
Whales
Salmon
Crab
Bald eagles
Puffins
Brown (grizzly) bears
Sitka deer
Sea otters
Sea lions
Like you, we were skeptical of shore excursion guides who jokingly promised guests 3 out of 5 of a list of iconic Alaska wildlife 'or your money back'. For Regent guests, this is truly a joke, because Regent has included shore excursions, so you can take wildlife tours in every port of call without going over your vacation budget. If you don't see the animal your heart is set on, another day, another port, another excursion just might bring you luck.
The truth is, our shore excursion guides and boat captains really know their corners of an enormous state; where whales feed or sea lions congregate. Plus we got lucky with weather and time of day...
In the end, over the course of a week-long cruise, we ended up seeing all of these creatures and others we didn't expect, and capturing them on video to share with you.
We think this video is the next best thing to actually being there watching whales come up for air or puffins fly past or a bald eagle swoop down into the water to capture a fish to feed her young in the nest.
But don't take our word for it. Add an Alaska cruise to your travel bucket list.
Start your Trip!
Copyright BestTrip.TV/Influence Entertainment Group Inc or Rights Holder. All rights reserved. You are welcome to share this material from this page, but it may not be published, broadcast, rewritten or redistributed
Alaska's breathtaking scenery and wildlife encounters will be memories that stay with you a lifetime. But there are one-of-a-kind tangible memories you can take home as well as your photos and close-encounter stories.
Lynn Elmhirst, Producer/ Host of
BestTrip.TV
and cruise expert, shares her favorite Alaskan souvenirs from her ports of call in Sitka, Skagway, Ketchikan, and Juneau on cruise to Alaska.
Alaskan Kelp Pickles
Food is such a fun souvenir when it's made from one-of-a-kind local ingredients. I found many flavors of Alaska to take home to treat family and friends.
One of my favorites I just had to share was the
Alaska kelp pickles we discovered in Sitka
. Picturesquely-named Bullwhip kelp is an edible seaweed member of the brown algae family that can grow up to 100 feet long.
Alaskans harvest the kelp at low tide through the summer. The long hollow stems cut in rings are around the size of the rings of a small cucumber… in other words, perfect for home made pickles.
One of the largest seaweeds, bullwhip kelp is a healthy sea vegetable with potassium, iodine, bromine, and even iron.
But the nutrients of kelp will be the last thing on your mind when you taste old fashioned 'bread and butter pickles' made from Alaskan bullwhip kelp. Sweet and sour, with mustard and celery seeds, you'll feel transported back to Granny's garden kitchen – with a refreshing, truly Alaskan maritime twist.
Shopping Tip: Also check out the spruce tip jelly (more floral than you think!) and the other grown-in-Alaska preserves, jellies and pickles.
Serving Tip: Take them home to entertain your friends, alongside your favorite aged hard cheese (like old cheddar or gouda) and French bread.
Make it a cocktail party! Pair them with…
Vodka or Gin made from Alaskan Glacier Water
When it comes to food, wine, and spirits, the best ingredients produce the finest results. The base of any spirit is the water used to make it. And nothing can beat the purity of water sourced from Alaska's glaciers.
So imagine how thrilled we were to discover
Skagway Spirits.
And it happened in the best way of great discoveries when you travel.
The shore excursions expert on the Regent Seven Seas Mariner told us we just couldn't miss the (formerly infamous) Red Onion Saloon in the historic, Klondike-era downtown of Skagway. Naturally, a visit turned into a drink at the bar. I always look for a local flavor on the menu, and there it was: A spruce-tip cocktail made with local Skagway Spirits gin. The perfect toast to local flavor; we needed to find the source! The bar chef drew us a map on the back of a napkin, and off we went on an adventure.
The map led us to an old hangar at Skagway's local airport, where Skagway Spirits has its small-batch distillery and charming tasting room.
This is a do-not-miss experience, meeting the members of this family owned- and operated distillery. Their passion and love for what they do is apparent with every fantastic sip of their vodka and gin.
They even make home-made local juices from berries and blooms. Their Fireweed Cosmopolitan or Rhubarb Collins will change your life. Ryan doesn't even like rhubarb and he was sidling up to the bar for another!
Shopping and Travel Tip: Skagway Spirits is used to packing up spirits for cruise guests' safe return home. Some cruise lines will have your purchase of wine or spirits stored until you leave the ship at the end of your cruise.
Alaska Jade
Alaska's state gem… isn't technically 'jade'. But don't let that stop you from bringing home a gleaming piece of Alaska's most famous stone.
To the naked eye, the green gemstone you see in shops throughout Alaska looks a lot like the Chinese semiprecious gem. They are actually different stones. Chinese jade is a lighter green and much harder than the softer, usually rich green Alaskan gem, which isn't technically the same 'jade'.
But polished into luminescent jewelry, figurines, knives and art objects that evoke the vivid greens of Alaska's unforgettable forests, Alaskan jade is a glowing and cherished emblem of the state's history, natural resources and craftsmanship of its indigenous people. The earliest Alaskans used pieces of Alaskan jade they found in rivers to make tools, jewelry and even weapons.
Large deposits still exist in Alaska – in fact, there's an entire mountain of jade in Alaska - British Columbia, and even parts of California. In addition to the identifying dark green, it's sometimes found in lighter yellower shades, red, black, white and even very rare and valuable lavender.
Shopping Tip: Unlike some other gems, Alaskan jade seems to appeal equally to men and women. Look for jewelry made in a wide variety of rustic/ native Alaskan styles and symbols, to nature and decorative themes. It's the kind of souvenir you'll wear forever, reminding you of your journey to Alaska.
Ulu
From as early as 2500 BCE, Ulu were an essential part of indigenous households throughout the Arctic, from Greenland to Canada to Alaska. Ulu means 'women's knife', and was an all-purpose tool for skinning animals, slicing animal skins, carving blocks of snow and ice for shelter, cutting food and even hair. It was a cherished tool passed down through generations with care.
Ulu are composed of a curved blade with a bone, antler or wood handle. Its unique shape centers force over the middle of the blade more than a knife shape we are used to, making it easier to cut bone, or use rocking motions that pin down food to cut easily one-handed.
Don't let your Ulu sit on a mantle as a conversation piece. Women and men will find infinite uses for an Ulu. I was given an Ulu by a friend who's a fellow travel journalist, and it's already indispensable. I don't cut my own hair with it, but it's great to have in the kitchen, where rocking motions on a cutting board make short work of mincing herbs, or in the garden, slicing the tops off root vegetables.
Travel Tip: check airline regulations to travel with blades; a souvenir Ulu most certainly needs to be safely stowed in your checked, not carry on luggage.
Shopping Tip: avoid cheap factory made Ulu and instead, look for crafted Ulu to support indigenous and individual artisans keeping Northern heritage alive.
Start your Trip!
Copyright BestTrip.TV/Influence Entertainment Group Inc or Rights Holder. All rights reserved. You are welcome to share this material from this page, but it may not be published, broadcast, rewritten or redistributed.
It's only 20 miles from Skagway, Alaska's deepwater port on the coast, to the border of Canada's Yukon. But what a 20 miles they are!
The White Pass & Yukon Route railway ride is one of the most dramatic scenic experiences in the Alaska Panhandle. No wonder it's an all-time favorite experience for cruise travelers arriving in the preserved, Wild (North)West town of Skagway. The tracks go right onto the dock, so we stepped off the Regent Seven Seas Mariner right onto the train. And from there, on an incredible climb to the Continental Divide and the border with Canada.
It's an epic journey of breathtaking scenery and Klondike Goldrush tales - in vintage train cars that take you back to the days of prospectors and adventurers.
Meet the train conductor and hear his stories of this fabled train - one of the world's most scenic and historic rail journeys.
Start your Trip!
Copyright BestTrip.TV/Influence Entertainment Group Inc or Rights Holder. All rights reserved. You are welcome to share this material from this page, but it may not be published, broadcast, rewritten or redistributed.
Following a route less traveled in the footsteps of intrepid explorers and today's First Nations in one of the last frontiers: the Arctic.
Story and Photographs by travel and sailing journalist Elizabeth Kerr
Knowing that I was setting out on the same route that Franklin took in 1845 somewhat intimidated me. After all, he didn't make it home. However, once aboard Adventure Canada's Ocean Endeavor expedition ship surrounded by 110 like-minded adventurers, 30 experts in every field and a crew that went above and beyond, intimidation quickly transformed into exhilaration.
Needless to say, Franklin did not have access to advanced navigational equipment, cool linens, hot showers, three delicious meals and a variety of entertaining and educational distractions to battle the cold, the boredom, the frustration, the mutiny and his inevitable doom. But I did.
Ocean Endeavour anchored outside Ilulissat.
Finding Our Arctic Footing in Greenland
Franklin started in England. Our adventure started in Kangerlussuaq, Greenland, where, en route to our ship, I saw my first musk ox!
Although cold and somewhat damp throughout our walk on our first stop, Sisimuit, the sight of Arctic huskies – chained to rocks – and this town of 6,000 quickly reminded me how far I was away from my reality. Striped and polka-dotted dog sleds leaned against porches and dilapidated shacks waiting for passengers.
Ilulissat offered a completely different perspective. Its wooden boardwalk – built to protect the wetlands – provided spectacular views at every turn – and led us to the Icefjord, now a UNESCO World Heritage site and the fastest moving glacier in the world.
This is a view from the boardwalk that takes us to the Ilulissat Icefjord
On an afternoon jaunt, I just happened to turn my head at the right time to cathch this humpback whale entertaining the town of Ilulissat.
Although the trip so far was awe-inspiring, it was Karrat Fjord that welcomed me into its embrace. I felt at peace here and could have happily lingered all day looking out to sea for humpbacked whales or inland to the garden of icebergs that reminded me of a gallery Lauren Harris paintings.
Karrat Fjord reminded me of visiting a live Lauren Harris gallery.
Sightings of Arctic hares at both Kap York and Etah pleased John Houston, a member of the expedition crew, but my takeaway that day was the memory of our singer/songwriter/zodiac driver Kevin Closs singing a sea chanty to distract us from the bitterly cold wind and waves.
It's been quite a while since we had seen the sun but it certainly boasted it glow on this iceberg somewhere near Etah.
Here we are in Foulks Fjord, lead by John Houston, determined to spot an Arctic hare.
We depart Greenland with its Craylola-coloured houses and majestic icebergs to cross Baffin Bay and head back to Canada.
Following in Franklin's Footsteps 70 Degrees North
It's Day 8. We are halfway through the Northwest Passage; there are still lessons to learn and stories to tell. Bad weather prevented a visit to Aujuittuq – Canada's northernmost civilian community – so we ventured on with a revised itinerary thanks to Denise Landeau, our tireless expedition leader. And so it goes in the Arctic. Expect the best, prepare for the worst. It is an expedition after all.
Over the next few days, I learned more about Canada's north than any high school history class could offer.
Dundas Harbour, on the south coast of Devon Island, housed one of four abandoned RCMP detachments. For three years, RCMP officers lived with no radio contact and a yearly delivery of provisions. Today, the dilapitated building remains standing along with three graves.
Beechey Island was living proof of Franklin's demise. The four graves there brought an uncommon silence among us that was thankfully broken by the voice of Ken McGoogan regaling his story of the Northwest Passage.
I can't begin to describe the emotional wave that comes over you as you stand quietly at the foot of these three graves of Franklin's crew (Petty Officer John Torrington, Royal Marine Private William Braine, and Able Seaman John Hartnell) on Beechey Island.
After a rather sombre walk through snowflakes and a bitter breeze, we reloaded ourselves into the Zodiacs, ready to go home. Ree Brennin-Houston had other ideas. Heading away from the ship (where warmth, a cup of hot tea and biscuits were waiting), many of us found ourselves surrounded by a flote of beluga whales, disguised so well as to be confused with the low-lying icebergs around them. At one point, we counted 13.
It was hard to tell the difference between the icebergs and the belugas.
Fort Ross was home to the last Hudson's Bay Trading Post built in the Arctic. After 11 years, it was closed due to ice restricting travel and trade. The main building still stands and is sometimes used as base camp for research scientists and some very brave sailors.
Oh Where, Oh Where are the Polar Bears
It felt important to cross off my Arctic's Big Five (polar bear, humpback whale, Arctic hare, muskox and beluga) and compare it to my Africa's Big Five (which I accomplished in 2009). There were high expectations of seeing a polar bear, but they were few and far between, however in the end, we did spot 12, mostly from afar. Check!
This trip also offered sightings of several other mammals including minke whales, harbor seals and a single lemming. Bird-lovers on board spotted nearly 40 species from Arctic terns to Thayer's gulls. Check, check!
Fort Ross was home to the last Hudson's Bay Trading Post built in the Arctic.
A Gem from our Past. Hope for the Future.
Every day, geologists, zoologists, naturalists, historians, photographers, documentarians, authors, biologists, and scientists would teach us with immeasurable passion about the region we were so very blessed to explore.
A leader and political activist, a culturalist, an educator, a musician, and two archaeological mentees, all from Nunavit were also present to share their stories and teach us more about the way of life as it is today at 70 degrees north of the equator. Their stories came to life during day visits to Uqsuqtuuq (Gjøa Haven) and Cambridge Bay.
Our visits to Gjoa Haven and Cambridge Bay were history lessons in themselves. It is truly hard to imagine how people can live, let alone thrive, in these desolate places so far from the many services we take for granted on a daily basis.
Our 17-day itinerary with Adventure Canada was designed to maximize our Arctic experience, jam-packed with knowledge-sharing, story-telling and entertainment. This journey is not for the faint of heart, however for anyone who cares to dare, it will expand your horizons, warm your heart and leave a lasting impact on Nunavit and on you.
Qakuguttauq (See you again soon!)
Copyright BestTrip.TV/Influence Entertainment Group Inc or Rights Holder. All rights reserved. You are welcome to share this material from this page, but it may not be published, broadcast, rewritten or redistributed.
It will be a full year of breaking champagne bottles against sparkling new ship hulls. Every new cruise ship gives cruise lines the chance to spread their wings and launch design, culinary and entertainment innovations. This year, there are even new-in-class ships never seen before.
Here's what's new at sea in 2017.
Seabourn Encore:
First out of the gate, luxury small ship cruise line Seabourn's Encore was christened in Singapore the first week of January and is sailing in Asia, heading to Australia, New Zealand, then back to Dubai and the Mediterranean.
What we love: Curving lines, feel of a sensuous, luxury yacht styled by celebrity hospitality designer Adam Thihany. All suites, 300 of them, with marble baths, all veranda. The culinary styling's of 3-Michelin-starred chef Thomas Keller in the Grill. An aft water sports marina that opens when the ship anchors, so guests can kayak, windsurf and paddle about in the sea. The draped Retreat on the top deck, with private cabanas, a spa cabana, bar and the sea breeze. Seabourn's partnership with UNESCO promoting sustainable tourism at World Heritage sites.
Silver Muse
April brings us the ninth and largest ship for luxury, small ship line Silversea Cruises. The Muse will be the flagship and the largest in the fleet.
What we love: Silversea is calling it a leap forward to 'ultra-luxury ocean cruising'. 600 guests will enjoy 7 levels of suites. An incredible eight restaurants, three of them outdoors, including the line's signature pool deck Hot Rocks al fresco, table-top meat and seafood grill. Only one involves a fee, La Dame, the Relais & Chateaux French restaurant with local ingredients. A sophisticated indoor/outdoor cigar and whisky bar.
Viking Sky and Viking Sun
Twin sister ships to Viking Star and Viking Sea, Viking's two new ships launch early spring and late fall this year. Also like their sister ships, Viking Sky and Viking Sun will host 930 guests on cruises that include long calls in port and plenty of overnight calls so guests can immerse themselves in the destination experience.
What we love: Viking's signature 'Nordic' lifestyle: Scandinavian design, a Nordic spa, Finnish sauna, even a 'snow room', plus a cozy and sociable fire pit. The indoor/outdoor Aquavit Terrace dining rooms, 'magrodome' pool with glass roof that opens in fair weather, and a main restaurant also transforms from cozy 'hygge' atmosphere to a breezy, open air venue.
MSC Meraviglia
Slated as the biggest ship at sea by passenger capacity when it launches this spring, the MSC Meraviglia means 'wonder', with 3 more ships in its class due by the end of the decade. MSC Meraviglia will homeport in Europe.
What we love: The two-deck indoor amusement park, three large pools, and massive aqua park. The Mediterranean-style indoor promenade featuring a 262-foot-long LED "sky" that transforms through the day. MSC's wristband technology, for making payments and bookings and keeping track of family members. And who wouldn't be excited about Cirque du Soleil's first at-sea partnership? Plus the eco-friendly technology to neutralize carbon dioxide emissions and equipment to be water-emission free.
MSC Seaside
Launching at the end of the year, the MSC Seaside launches a new class of ships, just for MSC in North America. It will homeport in Miami and sail year-round in the Caribbean.
What we love: An unimaginable nearly half million square feet of public space. See-through glass walkways (top picture) that hang over the ocean and open-air spa. An outdoor promenade that wraps around the whole ship where you can enjoy shops, bars and alfresco dining. Terraced balcony cabins, with both sea views and a view over the promenade below. Five water slides in a huge aqua park, a ropes course, and a zipline. An expanded MSC Yacht Club – the line's ship-within-a-ship concept so family fun and butler-catered refined luxury are all on the same ship.
National Geographic Quest
When Lindblad Expeditions launches the National Geographic Quest in the summer for sailings in Alaska, the Pacific Northwest and Central America, it will be the largest ship in the fleet. Not your traditional expedition ship. Half of the 50 cabins will have balconies. Family-friendly connecting rooms. Even the rarest of expedition cruise ship amenities: a spa!
What we love: The spirit of exploration. Technology that connects you to nature, like remotely operated vehicles (ROV), a hydrophone and bow-cam to hear humpback whales and film dolphins. Being able to get close to Nature with on-board sea kayaks, paddleboards, expedition landing craft, warm and cold water diving gear, and underwater cameras.
American Constellation
This summer, American Cruise Lines launches its first new ship in several years. The American Constellation will be the cruise line's largest ship; a 163-guest coastal cruise ship built to sail itineraries on the US Eastern coastline and inland waterways including Chesapeake Bay, New England, Hudson River, Mid-Atlantic Inland Passage, and the Southern U.S.
What we love: Most staterooms have private balconies and there's even a selection of single rooms for solo travelers. Menus with regional cuisine, sourcing local ingredients at ports.
Flying Clipper
Star Clipper celebrates its silver anniversary not just with a new addition to its fleet of masted sailing ships, but a near-replica of the largest ship of its kind ever built. The 300-passenger, 5-masted Flying Clipper will be powered by 32 sails constituting nearly 40,000 square feet of sail (with backup fuel-efficient engines).
What we love: Wind-through-your-hair sailing adventure. Get harnessed into the rigging and climb to the crow's nest for the best views at sea; learn knot-tying, celestial navigation, and sailing techniques. Two nets strung on either side of the bowsprit rock you gently in the sun. Three pools, including one that arcs sunlight through the ship's atrium into the dining room, a dive-training pool descending 18 feet through 2 decks with glass sides so passengers can watch at the Dive Bar, a water sports platform with snorkeling, kayaks, water skiing.
Start your Trip!
Copyright BestTrip.TV/Influence Entertainment Group Inc or Rights Holder. All rights reserved. You are welcome to share this material from this page, but it may not be published, broadcast, rewritten or redistributed.
10 ways you can cruise to Cuba this year.
One of the biggest travel stories of the past year has to be the renewing of relations between Cuba and the US and the rise of Cuba as a destination for American travelers. Cuba has long been a favorite sun and culture destination for Canadians and Europeans. Only US citizens were prevented from traveling to the Caribbean's largest island.
Now American cruise ships are permitted to sail to Cuba, and late in 2016, Cuba approved a number of US cruise lines' applications to make port calls. A few international cruise lines could always go, and they have increased sailings and itineraries. So cruising to Cuba is one of the biggest travel stories this year.
Canadians and Europeans now have a lot more choices to cruise to Cuba, and Americans now have that cruise option, although they still need a visa. US cruise lines now sailing to Cuba generally facilitate a 'people-to-people' visa for American guests.
BestTrip.TV's cruise expert Lynn Elmhirst rounds up 10 ways you can cruise to Cuba this year.
From single days in port in Havana, to a week or more exploring the island, cruises to Cuba allow you to get a taste or immerse yourself in Cuba's culture, history, and natural wonders.
ALL-CUBA CRUISES
Celestyal Crystal
This Greek line claims to offer the only true circumnavigation of Cuba on 7-day, all-inclusive cruises departing every Monday from Havana, and every Friday from Montego Bay, Jamaica.
Formerly known as Cuba Cruise, this cruise began sailing 3 years ago, and now sails year-round in Cuba on a 1200 passenger ship that was renovated in 2016. They offer the p2p program visa for American citizens.
Itineraries include two days in Havana and various calls including Maria La Gorda, known for its impeccable beachfront and underwater marine life, the perfect destination for scuba divers, snorkeling enthusiasts and beach lovers, Punta Frances on the Isle of Youth, Cienfuegos, an 18th-century fortress, and historic Santiago de Cuba, 16th century capital of the Spanish colony of Cuba.
Ports and shore excursions provide city tours, history, adventure, cultural walking tours, hiking, beach days and snorkeling to passengers of all ages and tastes. This cruise is family-friendly, with a supervised children's program for 4-12 year olds.
National Geographic - Lindblad Expeditions
Lindblad Expedition cruises' partnership with National Geographic means these cruises are for travelers serious about in-depth expertise: photographers, naturalists and cultural specialists join guests on the 11-day trips. These land and sea tours are an extension of Nat Geo's existing land tour programs, and they fulfill the p2p visa requirements for Americans.
Trips begin with a flight from Miami, and include several days in Havana, as well as stops in Trinidad, Cienfuegos, the historic Bay of Pigs, Isle of Youth, and Cayo Largo.
Fewer than 50 guests are on board the Panorama II, a small expedition ship, as it makes ports of call that highlight Cuba's marine and natural wonders and culture, highlighting music, history, and interacting with locals like artists, mechanics who inventively keep those classic US cars running, members of Cuba's renowned medical community, and naturalists protecting endangered species.
Natural highlights include searching for the smallest bird in the world, the bee hummingbird, a visit to a sea turtle breeding center, diving, and lots of wildlife and scenic photography.
G Adventures
Canadian tour operator G Adventures provides a less intense/ serious, and more youthful and affordable version of a Cuba expedition cruise on its 8-day 'marine tour' of Cuba's Canarreos archipelago in a catamaran with only 14 people on the tour. This cruise option is one of several types of trips to Cuba the company offers. Americans are welcome, but need to arrange their own visas.
Cruises start and finish in Havana, and spend 5 low-key, soft-adventure days exploring off-the-beaten-path islands and island communities, with relaxed days of snorkeling, kayaking, sailing, easy exploring, visiting lighthouses, enjoying seafood dinners, and lazing on deck or on the beach.
Pearl Mist
Pearl Seas Cruises (a sister company to American Cruise Lines), offers 10-night 'Cuban Cultural Voyages' that fulfill the American p2p visa requirements. On the 200-passenger Pearl Mist, guests enjoy luxury elements including all private balconies on its 100 staterooms and high-end culinary offerings, but the company also makes sure to point out that there is elevator access to all decks and on board medical for its senior guests.
These cruises run January through April, 2017, and start up again in November. There's a packed program of stops on the island beginning with 2 days in Havana, and other ports include Isla de la Juventud, Cienfuegos, Trinidad, El Cobre, Santiago de Cuba and Parque Baconao.
Guests engage first hand with local tradespeople, artists, musicians and historians at museums, national parks, art studios, architecturally significant homes and UNESCO World Heritage sites.
Photos courtesy MSC Cruises
CRUISES THAT OVERNIGHT IN HAVANA
MSC Opera and MSC Armonia
MSC Cruises, a European company, was one of the first major cruise lines to feature Cuba in its itineraries for its European and Canadian guests. The cruises have been so popular, MSC has homeported 2, 2000-passenger ships, the Armonia and the Opera, in Havana.
Guests spend about 2 days in Havana on MSC itineraries. MSC does not design its Cuba itineraries to meet American citizens' requirements for p2p visas, so guests have more flexible options that include not only historic and cultural attractions, but also beach days in Cuba as part of cruises that also include other Caribbean destinations.
Azamara Quest
Royal Caribbean's smaller-ship, sister brand Azamara has just one Cuba port of call this season: it's added an overnight in Havana to one 12- night Caribbean cruise on the Azamara Quest departing March 21st from Miami with stops in Key West, Tampa, New Orleans, and Cozumel, Mexico as well as Havana.
The cruise line says it's planning to introduce more dates and more Cuban ports, but it already offers an impressive line up of 6 of its signature 'Land Discoveries' immersive destination programs, including Hemingway's Havana and Havana by Classic American Car. The programs fulfill visa requirements for Americans, so this cruise is a destination-focused opportunity for the Azamara Quest's 700 guests to get a taste of Cuba.
Seven Seas Mariner
Regent Seven Seas Cruises is the only North American classic luxury cruise line to sail to Cuba – yet.
It has added Havana to two Caribbean cruises aboard the 700-guest Seven Seas Mariner on April 11th and 18th. The itineraries are identical, with an overnight in Havana as part of week-long cruises that also call on Harvest Cay, parent-company Norwegian Cruise Holding's upscale resort destination in Belize.
Regent Seven Seas cruises are all-inclusive, with fares that include airfare, unlimited shore excursions, alcoholic beverages, WiFi, gratuities and more. Its Cuba tours fulfill US p2p visa requirements and provide guests with authentic Cuban experiences that explore the people, music, art, history and culture of the island.
Norwegian Sky
Norwegian Sky, with 2000 guests, is the largest US vessel sailing to Cuba in 2017. NCL has scheduled 5, 4-day roundtrip cruises from Miami to Cuba on May 8, 15, 22 and 29th.
The cruises overnight in Havana, and also spend a day at Norwegian's private island resort in the Bahamas, Great Stirrup Cay. Norwegian Sky's cruises to Cuba, like some of its others in the Caribbean, include an open bar, so overall, these short cruises will have mostly a party atmosphere.
However, guests will be able to go ashore to visit sites in Cuba's capital, including the UNESCO World Heritage Site of Old Havana, and experience the local art and music scene; engaging with local artists (and fulfilling US p2p visa requirements).
CRUISES WITH ONE PORT DAY IN HAVANA
Marina
Oceania's Marina is the first of the Norwegian family of cruise lines to sail to Cuba. The 1250-guest, upscale ship begins one day or overnight calls in Havana in March, with programming that meets visa requirements for Americans. These 10 day or two week Caribbean cruises depart from Miami in multiple itineraries that also include NCL's new private island resort Harvest Caye in Belize.
Empress of the Seas
Royal Caribbean recently updated and renovated the 1600-guest Empress of the Seas for its Cuba itineraries. Beginning in April, 4, 5, and 7-night cruises depart from both Miami and Tampa on Western Caribbean itineraries with one day in port in Havana. Royal Caribbean's Cuba shore programming allows Americans to meet visa requirements while enjoying Royal Caribbean ship experiences like rock climbing, multiple pools, restaurants, nightlife, and even the Cuban-inspired dance club Bolero.
Cuba is a brand-new destination for Americans, and cruising to Cuba is novel even for Canadians. A travel advisor can help you choose the right ship and itinerary, and navigate the details to ensure your cruise to one of the world's newest cruise destinations is all you dreamed.
Start your Trip!
Copyright BestTrip.TV/Influence Entertainment Group Inc or Rights Holder. All rights reserved. You are welcome to share this material from this page, but it may not be published, broadcast, rewritten or redistributed.
Antarctica may be on your travel bucket list, but what if even the prospect of being one of the few people ever to set foot on the surreal, winter wilderness of the South Pole isn't enough to convince you to rough it?Well, you don't have to. We've discovered a tour operator that takes only a dozen visitors at a time to what they call the 'real' Antarctica, inland from cruise shore excursions, all the way to the actual Geographic South Pole.
And they do it in style. Inspired by luxury safaris of yesteryear complete with china, chefs, hampers and fine linens, White Desert creates an encampment of luxury pods that furnishes almost as unique an environment inside as outside.
Taking off from South Africa, it's a half-day's flight to the camp. While nothing to look at from the outside (and why would you want to when you're surrounded by scenic glaciers and ice waves?), the interior design would be at home in any luxury lodge. It's 'glamping' – that's 'glamour' meets 'camping'.
All photos: White Desert
The camp has six sleeping pods for two, equipped with a bed, desk, and wash/toilet area.
There are separate structures for showers, a kitchen, and lounge and dining areas, and your meals are catered by an award-winning chef. With your comfort assured, it's time to explore.
Guests can choose from two, eight-day trips, and even an extraordinary, 'best day ever' single day to Antarctica and back. Expert polar guides help you discover the wonders of the immense 'white desert' continent through different excursions out from base camp. You may trek to a magnificent colony of 6,000 majestic Emperor Penguins, explore exhilarating ice formations and tunnels, go technical rock climbing, abseiling, kite-skiing, even take a trip to the actual Geographic South Pole and the science station nearby. Imagine standing at the single place on earth where all points lead… only north!
Your actual footprints will be swept away by the snow, and the company ensures no ecological footprint will be left behind in this pristine environment either. The company's zero impact policy is complete: the camp is temporary, and re-created each season; all waste – including human – is removed; solar and wind power the camp; and even your flight emissions are offset through dedicated carbon projects around the world.
It's an Antarctic luxury 'safari' where you can have the world's rarest scenery, rushes of adrenaline, and stylish comfort, too.
Start Your Trip!Copyright BestTrip.TV/Influence Entertainment Group Inc or Rights Holder. All rights reserved. You are welcome to share this material from this page, but it may not be published, broadcast, rewritten or redistributed.
The headless knight; the burning man; the infant Jesus of Prague… These are just some of the many ghosts that are said to roam this great city.
read more